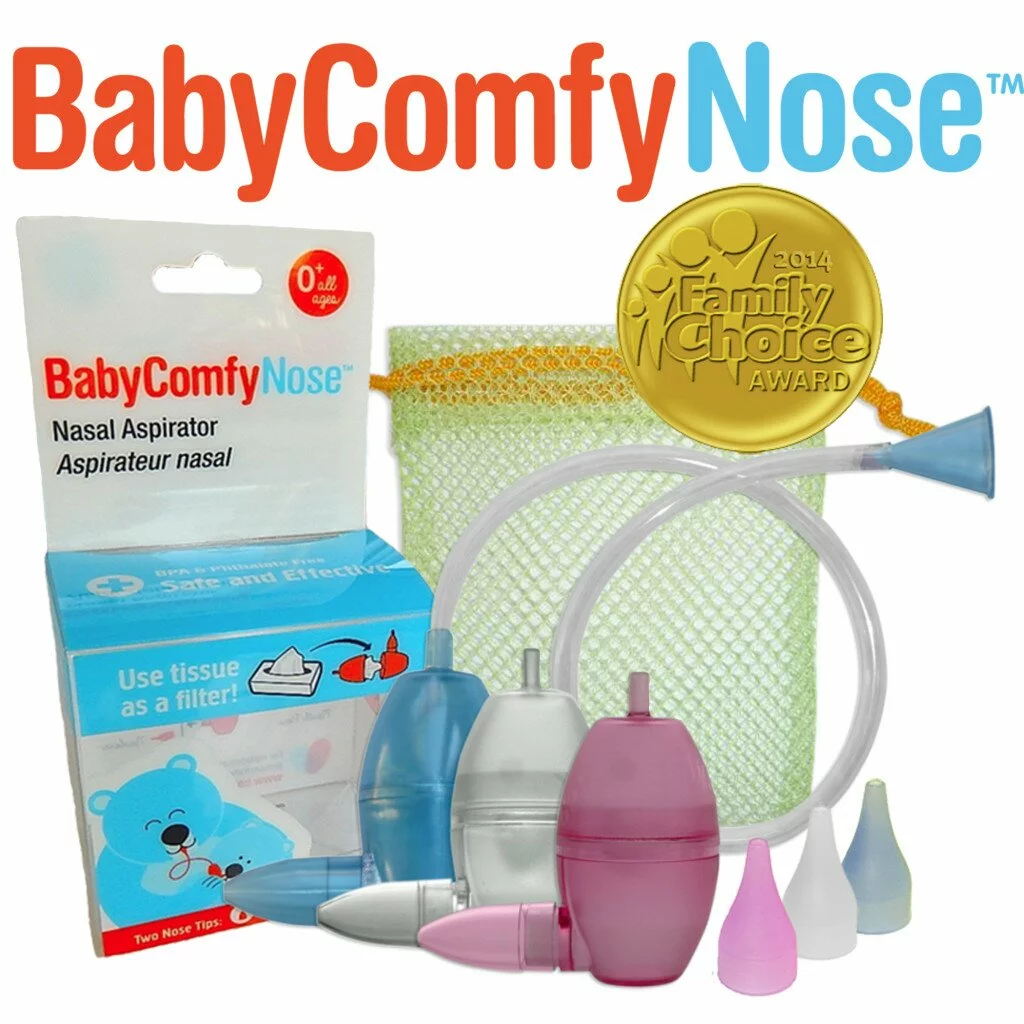 "BabyComfyNose is simply the most effective, best-designed nasal aspirator for babies on the market today." – James Zinreich, MD Prof. of Otorhinolaryngology Head and Neck Surgery The Johns Hopkins Medical Institutions.
Baby Comfy Nose nasal aspirator uses your own suction to quickly and hygienically remove children's nasal mucus.  Significantly more effective than bulb and battery aspirators because your natural lung suction is so much stronger.  The design of the aspirator eliminates any possibility of contact with mucus and germs.  Insert a tissue into the aspirator as a filter so there's nothing else to buy.  The unit comes with two nose tips: standard and newborn. Medical grade soft nose tip and mouth piece.  The mesh storage pouch keeps all the pieces together in the dishwasher, then hang to dry and it's ready for the diaper bag.  Three colors options are ideal for siblings and multiples.  BPA and phthalate-free.
Baby Comfy Nose Nasal Aspirator
Baby Comfy Nose Nasal Aspirator
Summary
This product, for me, was fantastic. It actually sucked out everything I couldn't get with my LO's regular nasal aspirator. It kind of grossed me out at first, but when I realized it could be filtered to not allow the snot, or mucus to go up the hose I was ready to try it out. It it easy to assemble and clean and has 2 separate size nose pieces. One for newborns/infants and one for older kids. It is fairly priced, and worth the money. Overall I would say, yes this product works, and I would recommend it to anyone with small kids because Lord knows it is hard enough to get that stuff out, and anything that can help them breathe better is a amazing thing to have on hand!
Disclosure: The author of this blog received compensation in the form of free product in exchange for a fair and unbiased review. All opinions are 100% that of the author's