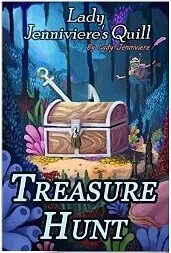 Chase Nelson loves summer vacations on beautiful Sanibel Island. This year he's especially psyched because he found an old book with a map pointing the way toward a long lost, buried treasure on the island. He's on a quest to get rich and along the way he meets some interesting characters: Nava, a beautiful mermaid, Lottie, a sassy sea gull and Benji, a moody dolphin. Together they search the entire island to find their treasure. What they find, though , is much more than they bargained for.
Treasure Hunt Review
Summary
This book was a good read. I like the story line, and the detail put into it. This story (though written for preteens and teens) made me remember values that had long been forgotten since my youth. It is a story about a boy looking for treasure when all along he had it there with him. I would recommend this book for children 8 or 9 and up. The reading level isn't to hard, but it is a longer book. This is one of a four part series, and I am hoping to read the others in the future.
Disclosure: The author of this blog received compensation in the form of free product in exchange for a fair and unbiased review.
All opinions are 100% that of the author's