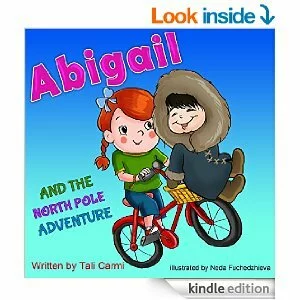 This is a wonderful book about a girl named Abigail.
Abigail found a magical bicycle in her grandparents' old house, and this bicycle takes her to the magnificent North Pole.
Who will she meet there? What will she discover?
This beginner reader's eBook will inspire your kids to be open to new cultures, and be more curious and enthusiastic about exploring various places.
Your kids will enjoy full-color illustrations of Abigail and the North Pole life.
Your kids will be inspired to be:
Open to new people & cultures
More curious
Enthusiastic about exploring new things
Abigail and the North Pole Adventure is a sweet children's book written especially for you and your ages 2- 8 children.
With simple text and 15 colorful illustrations.
The story is suitable as a read aloud book for preschoolers or a self-read book for beginner readers.
Abigail & the North Pole Adventure Review
Abigail & the North Pole Adventure Review
Summary
I love the Tali Carmi books. They are great for small children. That being said I only rated this one a 4 out of 5 because I wish that it had had a little more detail. It was very cute, colorful, and the story line was adorable, but it could have had a couple more pages. My son seemed to enjoy me reading this to him and he liked the silly voices I made for the characters! I would recommend this book to anyone looking for something cute and colorful for their young ones.
*Disclosure: The author of this blog received compensation in the form of free product in exchange for a fair and unbiased review. All opinions are 100% that of the author's