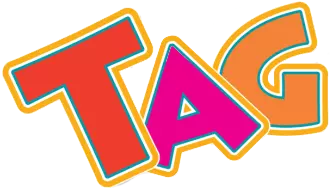 ---
When thinking about learning, what comes to mind for you? For me, it's a little bit of everything from math and spelling to attitude and self expression. I believe art can be a fantastic way for children to express themselves in healthy way. And even better, I came across a super neat game that the whole family can enjoy! TAG- The Art Game was created with learning AND fun in mind.
The game comes with everything you need for hours of interactive fun and learning. There are several options, one with the game, and you buy the art supplies separately; one that includes everything you see pictured to the left; and one that includes 3 sets to be used in a classroom setting.
This is a wonderful addition for homeschooling parents to add to the repertoire of learning materials.  What I love most about this game is that the ideas for play and creativity are endless! TAG is completely family friendly and is something everyone can play and love!
---
So, what do you get inside this cool little box?
The game includes:
80 cards · Color Wheel · Dice · Instructions · 16 Oil pastels · 8 Watercolor paints · 5 Sheets of assorted color card-stock paper · 7 Sheets of assorted color tissue paper · 2 Sheets of metallic paper · 3 Sheets of 11″ x 15″ watercolor paper · Scissors · Glue · Paint brush · 2 Containers of glitter
---
The box comes nice and tidy, and ready to go. Simply open it up, and you're set. All of the paper is on the bottom, and the rest sits on top.
You can always buy more to add to the box to make it more interesting. I have added crayons, colored pencils, additional construction paper, glue sticks, and a few tubes of glitter.
Be sure to do your crafts on top of a surface that is easy to clean, or on top of old newspaper.
The possibilities with this set are incredible, and there is no extent on what you can add. I found tissue paper, and lots of other goodies at the Dollar Tree., and Dollar General.
For your convenience, you can read the rules online and even check out a video tutorial below.
---
---
The game cards and wheel are super neat. There are lots of mix and match options, so when you draw one, your master piece will become even more unique!
---
---
Check out this video tutorial by the awesome creator of this box:
---
This is a great set for preschoolers, young kids, older kids, homeschoolers and everyone in between!
We love it and sure hope you will, too. Stop by and grab your own set now!!
---
Check out TAG the Art Game on the Web
Follow them on Social Media