I had the amazing opportunity to receive one of these blankets from Collage.com in exchange for an honest review! I had recently ordered a photo blanket from another company and was skeptical of how much alike that the two blankets might be. I could not have been more wrong. In my honest opinion, I was IN-LOVE when this photo blanket arrived! It was twice the size of the other one, AND it was much thicker. Now, please, don't get me wrong. I am not knocking the other company, it is just that they are made differently, and each one has it's own uses. The other one now belong's to my son as it is the perfect size for him.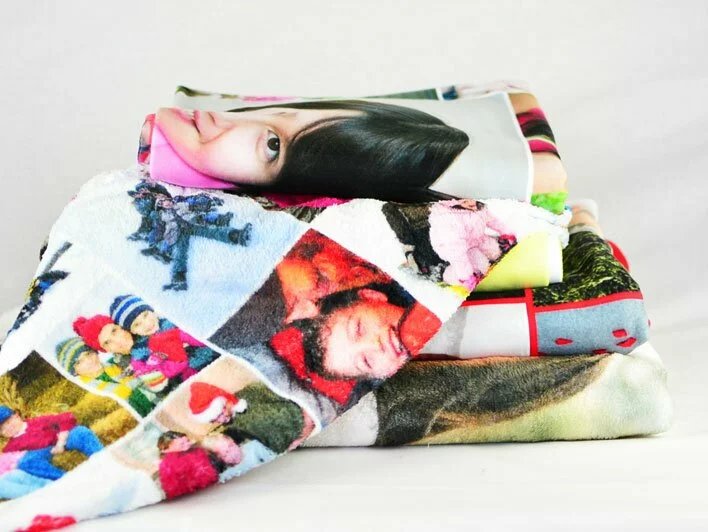 What I loved about this whole experience, was the customer service I received, the updated tracking on my shipment, and how easy it was to create and order. I am a huge fan of photo-product sites as I order photobooks multiple times a year, photo blankets, calenders, greeting cards, and more! So when I come across a company that makes my experience this pleasant and problem free, it makes me want to use that company more often.  The blanket is amazing. I love that it is so soft. I expected it to be more rough and need to be washed and have fabric softener added, but it didn't. Also, the image that I chose came out beautifully. For as large as the image was, it was not the least bit pixelated. I chose one of my whole family on our son's first day at the beach, and it has become one of my favorite pictures. I did have the choice to include a multitude of images, and just chose not to.
This is the Original Image
This is the Blanket we got from Collage.com
This is an up-close image so that you can see there is no pixelation
This is an up-close shot of the edge of the Blanket
This blanket is very well made and would make anyone happy to have one. These blankets are available in fleece, and velvet plush. Mine is one of the fleece blankets. The velvet blanket will most likely be my next buy from this company. My mom raves about wanting one and this may just be what she gets for her next gift!
The process for making one of these is super simple:
Collage.com has much more than just blankets, they also have tons of other things that would make great keepsakes, or gifts!
Just a little of what Collage.com has on their site:
Blankets
Photo Books
Gallery‑Wrapped Canvases
Posters
Pillows
Calendars
Beach Towels
Mugs
Mousepads
Bulk Orders
& much, much more…..
Overall, I think this is one of the best photo blankets I have come across in a long time. It is made well, warm, soft, and looks incredible. I would definitey recommend Collage.com for your gifting needs.
Also, you can get a DISCOUNT for a limited time by clicking here
Be sure to check out Collage.com on:
Facebook
Twitter
Instagram
Pinterest
Collage.com Photo Blanket Review