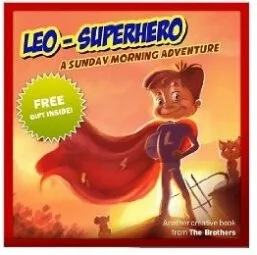 A great adventure children's ebook : Leo's Sunday Adventure begins early one Sunday morning when everybody is asleep. His cat, Milkshake, wakes him up and leads him to the kitchen where he finds something special. This is the beginning of Leo and Milkshake's short adventure in the house and the back yard. This is a wonderful story for children.
The story teaches children the importance of patience and love of others (they will meet a cat that does not always chase mice) and they will learn how Leo improvises, creatively using objects that he has learnt about.
Leo Superhero eBook Review
Leo Superhero eBook Review
Summary
This is a very adorable book! I love the pictures, they are incredibly cute, and colorful. This book is a great one for preschool aged children. It teaches how to be kind to others, and how to be patient when waiting for something to happen. I would definitely recommend this book! It would be a great addition to any child's collection.
Disclosure: The author of this blog received compensation in the form of free product in exchange for a fair and unbiased review. All opinions are 100% that of the author's