Parmesan Chicken Manicotti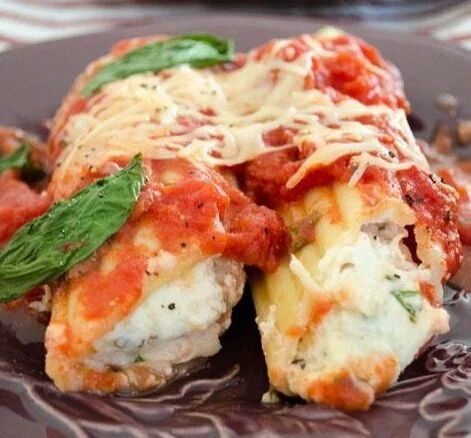 Ingredients
7 pieces Manicotti, cooked according to instructions
1 cup part skim Ricotta cheese
1/2 cup shredded Parmesan cheese
1 cup shredded cooked chicken
1 egg
1 teaspoon oregano
salt and black pepper
1 can Italian style crushed tomatoes
2 tablespoons grated Parmesan cheese
1 tablespoon chopped fresh basil leaves
1/4 cup Parmesan cheese
6-8 basil leaves
Directions
In medium bowl, combine cooked shredded chicken, Ricotta cheese, Parmesan cheese, egg, oregano, salt and pepper together and stir until well mixed.
Stuff each cooked Manicotti with about 1/4 cupful of the chicken and cheese mixture carefully so that the Manicotti doesn't tear.
Add the crushed tomatoes in saucepan over low heat.
Add 2 tablespoons grated Parmesan and 1 tablespoon chopped basil leaves and stir frequently, until it starts to bubble.
Simmer until heated through.
Spray baking dish with cooking spray and place the stuffed Manicotti in it.
Pour about 1 cup (or more) prepared sauce over the Manicotti.
Sprinkle with Parmesan cheese and place basil leaves.
Bake at 350 degrees F for 35 minutes or until hot and bubbly.