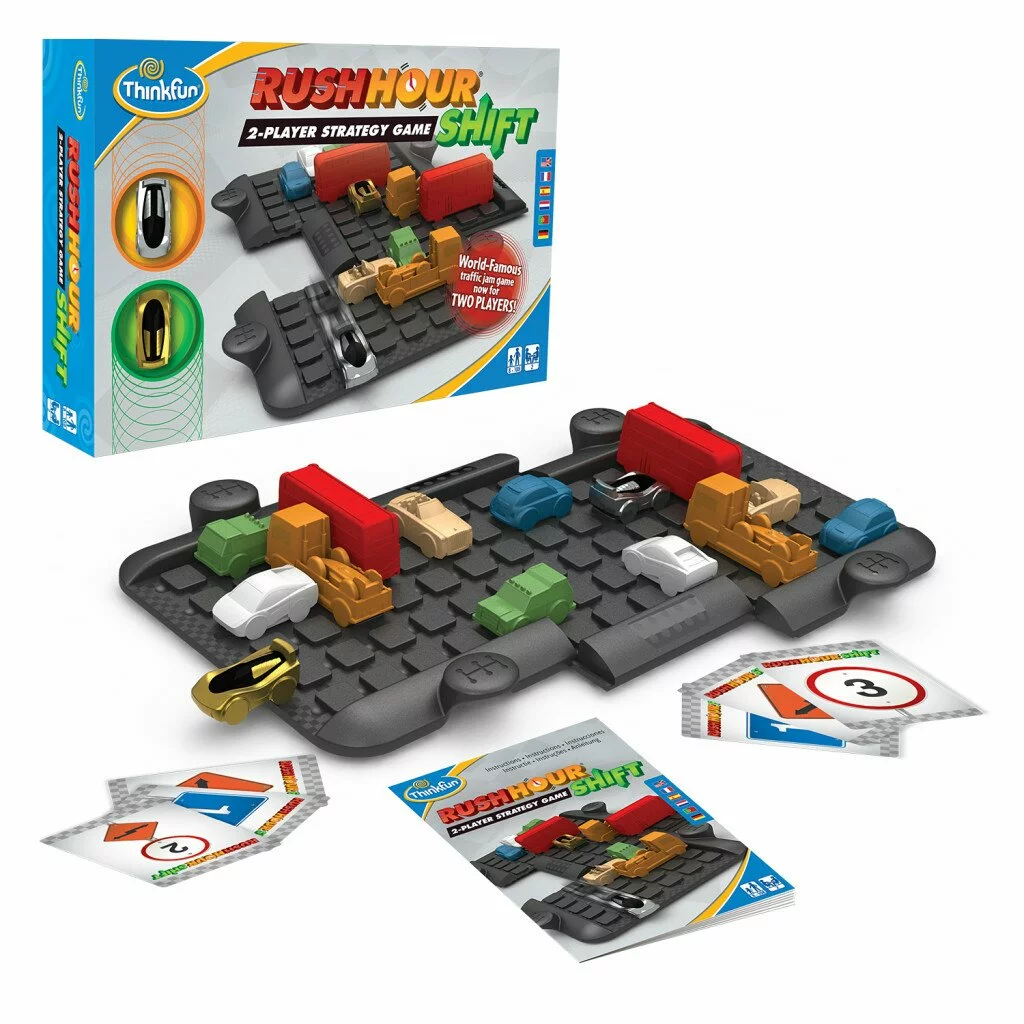 2-Player Strategy Game
Escape before your opponent, that's the goal! The best-selling sliding block logic game is now for two players. Every move counts in this race to cross traffic. As you draw cards, you'll need a little luck and a clever strategy to win. Should you use your turn to advance your own Hero Car or block your opponent? The potential moves are endless, and the shifting Traffic Grid adds a whole new dimension to play. Just when you think you've cleared a path to the finish, a shift of the grid can change the game!
How to play:

   Features:

Traffic Grid
12 Blocking Vehicles
2 Hero Cars
32 Cards
Instructions with 10 Game Set-Ups
Travel Bag

   Ages:

   Players:
Rush Hour Shift Game Review
Rush Hour Shift Game Review
Summary
When this game arrived, I was unsure of whether or not we would be able to 'get into it' but honestly, it was fun. My husband loves anything that makes him think, and this was one of those kind of games, it's all about your strategy. It comes with 3 boards that you can shift back and forth, 2 cars for the players, and 'the traffic', a deck of cars that you use to determine what your moves will be, and a very nice mesh bag to hold all of it when you are done playing. I love that it makes you think about your moves, and that it is a simple game yet thought-invoking and fun. It is lightweight, so you can take it if you are traveling, it doesn't take up much space, and everything can be stored neatly.
Overall, I think this is an awesome game, and I would definitely recommend this game. I would say that adults, or ages 13 or 14 and up, might enjoy this more than children of 8 or younger, but our son is not yet old enough to play, so when he can I'll come back and let you know!