This event is hosted by Mom Buzz Media and their network of super spectacular bloggers!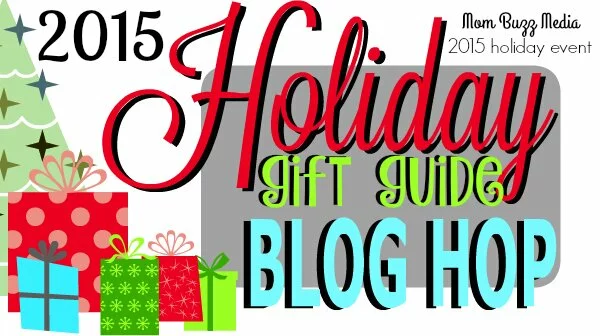 Welcome to our very first Annual Holiday Gift Guide :100 Blog Hop Event! Our hard­working bloggers have searched high and they have
searched low to find you the BEST and the most UNIQUE gift ideas for 2015.
ATTENTION GIFT GUIDE ADDICTS
CLICK HERE to be taken to the list of blogs. Start with any blog you choose and simply click the picture. It will take you to that blog where you can view their gift guide. When you are done, simply click the next one.
Thank you to our Co­Hosts:
Simply Sherryl
Rude Mommy
and
Michelle Unwrapped
We were lucky to snag a few absolutely amazing sponsors along the way! Please take a moment and read about each of them below!
Then scroll to the bottom of this post for the giveaway where you could be one of several lucky winners!
---
FAMILOOP
The Familoop team helps parents to protect kids online effectively and focus on actual parenting
rather than daily battles over phone time and limits. Parental Control Software by Familoop
(Familoop Safeguard) is the best partner for parents to raise thoughtful, digital citizens.
Younger and younger children are getting devices nowadays. The real world can be a scary
place full of monsters and evil. If you know a parent with children that already have or are
getting devices this year, set them up with a Familoop subscription for the holidays and give
them the gift of peace of mind!
Familoop will officially launch November 27, 2015, but you can opt­in early and get a 60%
discount to use when Familoop Safeguard is launched! What an incredible deal on a product
parents can use for their kids at any stage in their online lives.
Visit the FAMILOOP Safeguard website to learn more!
---
GLAMULET
Glamulet jewelry provides every woman a new range of trendy and elegant, high quality charms and bracelets made with 100% sterling silver. Glamulet is compatible with Pandora Jewelry at affordable price. Each woman can mix and match the charms to create her own unique
bracelet.
Right now you can build a beautiful, personalized gift and save 15% off of your purchase from Glamulet by using our Mom Buzz Media exclusive coupon code. HGG15
Visit the GLAMULET website and create the perfect gift for that special
someone!
---
CLICKBLOCK

The ClickBlock was created by Bong­Seok Yoon who has 29 years of experience in magnetic toy research, design and manufacturing. ClickBlock are fun and educational, premium magnetic toys. They believe toys should not only entertain, but also help children develop a love for scientific and  Mathematical thinking with safe quality product.
Visit the

CLICKBLOCK

website and learn how to Develop Creativity,
Imagination, Mathematical, and Scientific Thinking in children with their toys!
---
THE DARK KNOT
The Dark Knot provides the market with luxurious, hand made silk ties across 120 designs covering both woven and printed silk. Each of their ties come in an elegant black gift box along with recommendations for matching suits and shirts. Shortly they will be introducing lines of Pocket Squares and Lapel Flowers to further build out their men's accessories offering. Get some shopping done early and take advantage of this exclusive offer!
Save 25% off your order with code MOMBUZZ25 at THE DARK KNOT
---
INSPIRED SILVER
Inspired Silver features a full catalog of jewelry and fashion accessories perfect for everyone in your life. They have themed jewelry for family members and statement jewelry for nights out.  Get all of your holiday shopping done in one stop at InspiredSilver.com!
Plus, head to INSPIRED SILVER and if you buy now you can save 15% by using code
HOLIDAY15 at checkout!
---
I DO3D
Draw in 3d! I DO 3D is a fun and unique children's item that helps bring out your child's creative side.
It requires patience and planning and comes with a 3D guide map to help with designs. Recommended for ages 8 and up.
See more amazing 3d creations and get your own set
on the I DO 3D website.
---
Star Kids Snack N Play
Snack N Play is a woman owned small business and they understand that traveling with children, even a day trip, can require a travel trailer full of items. They create products to make life easier so you can focus on having more fun when going on these adventures!
Head to Star Kids Website to learn more about the travel tray and grab one for a mommy on your list! She will thank you!
---
The time has finally come….
Mom Buzz Media and our magnificent bloggers are hosting this giveaway in celebration with our
100 Blog Hop Gift Guide Event!
There will be 7 lucky winners!
Prizes Include:
$50 Inspired Silver gift card
X­Bar School House Set Premium Magnetic Building Toy from Click Block $47.99 MSRV
Six Essential Ties Starter Kit from The Dark Knot $390 RV
Complete bracelet from Glamulet $150 RV
Snack N Play | Travel Tray $30.99 RV
Snack N Play | Play N Go $32.99 RV
I DO 3D Art Kit
(2) Familoop Premium 10 Annual Memberships $69 value each)
---
a Rafflecopter giveaway

---
You do not have to complete all entries to win, but the more you do complete, the better your chances are of being chosen. US Residents 18 years old + only please. Mom Buzz Media nor
blogger promoting this giveaway are responsible for prize fulfillment. Prizes will be shipped out by the sponsors themselves. This event is not associated with, sponsored, administered, or endorsed by Facebook, Twitter, Pinterest, Google, or any other social media.
Need help promoting your product/service OR someone to
host your giveaway?
Contact [email protected]

How do you sum a person up in a few short lines? Sheesh!! Well here goes, I am a 30 something year old SAHM, wife, and blogger. I am curious about all things pertaining to parenting, and everyday becomes a brand new learning adventure for me and my family.
I love being able to share my experiences, give advice, and help others to be as successful as possible!
I grew up in the country. Born and raised in NC, but am now in the sunny state of FL (and LOVE it here). Since I hate the cold, this is a great place to be!
So... enough about me! I'm so glad you stopped by and I can't wait to hear your feedback. Feel free to drop us a line in the comments section and let me know what you think, would like to see, or if you have an idea for a post!!

Latest posts by Dora Clemons (see all)