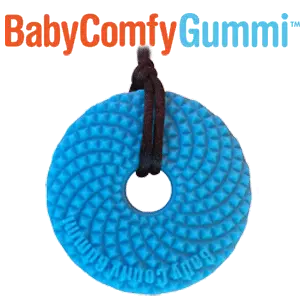 Baby Comfy Gummi teething jewelry is unique because of the deeply textured surface that massages baby's gums. Babies will grab what is available and that is often jewelry that hangs around a parent's neck, so why not wear something that baby can safely chew on?
When babies are teething, they need something to chew on to massage aching gums and help the teeth break through the skin. Chewing on the special, textured surface of Baby Comfy Gummi relieves teething discomfort. Phthalate-free, BPA-free, PVC-free, Lead-free, FDA-approved and CPSIA-compliant medical grade silicon rubber. The lanyard features a quick-release snap.

BabyComfyGummi Review
Summary
I have had the pleasure of reviewing a lot of teething toys lately, in exchange of an unbiased review. My honest opinion is that these are one of the top teethers I have received. Let me tell you why though; my son is teething, and some of the teethers I have reviewed are good, but they are flat and smooth instead of being textured like this one. Bubby seems to love that about it. When I first gave it to him, he just stared at it, and once it hit his mouth he was in heaven, lol. It is made of a material that is nontoxic, and safe for my little man so I feel comfortable with him having it. Also, the fact that it helps to soothe his irritation from his first teeth coming in is awesome! It has a lanyard that you can hang it from, and though I am not too keen on putting something like that around his neck (for fear or choking) I, however, can wear it while I am holding him so he has something to grab and chew on. It is durable, and doesn't seem like it will need to be tossed anytime soon. I also love this company's customer service. They are always prompt and answer emails within 24 hours or less, and after my last review, and giveaway with them, my winner got her prize quickly! Overall, I think this product as well as this company are both wonderful. This teether may just save my sanity in the coming weeks and months!