Follow my blog with Bloglovin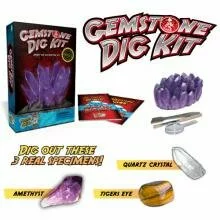 Real Gemstone Dig Kit!
* Excavate real quartz, tiger's eye, and amethyst gemstones with this hands-on digging kit
* Kit includes digging tool, brush and magnifying glass & is a great way to start a rock & mineral collection
* Perfect gift for any kid aged 6-12 that is interested in rocks, science, geology, or paleontology
* The 12-page info guide is filled with cool science facts about gemstones and was written by teachers
* Activity booklet contains 10 wonderful puzzles and games for hours of extra fun and learning
Excavate 3 real gemstone specimens with this incredible hands-on excavation kit. Buried within a gemstone-shaped digging brick, your treasure hunter will dig out a real amethyst crystal, a quartz crystal point and a tiger's eye specimen! This hands-on adventure science kit is a great way to start a rock and mineral collection and includes an excavation tool, brush, and magnifying glass. There's also a wonderful full-color information guide (written by teachers) so that you can identify and learn about each gemstone. Plus there's an activity booklet with 10 fun games, puzzles, and challenges to complete. This is a must-have gift for the rock hound or treasure hunter in your family!
AWARDS WON: Preferred Choice Award – Creative Child Magazine 2012 and Seal of Excellence – Creative Child Magazine 2012
Gemstone Dig Kit Review
Summary
Courtesy of Discover with Dr Cool, I received this product free in exchange for an unbiased review. When it arrived I was actually excited because I imagined this to be one of those things that can feel like an adventure! We opened the box to find a large stone, and digging tools. When you break open the larger stone you find the real gems inside! How cool is that? Before receiving it, I wasn't sure what the larger stone was, but found out that that is actually what you 'dig' into. It included 3 real gemstones, that were very pretty. I love this product and am thinking about buying 2 of these for my niece and nephew. Overall this is a very neat product that can invoke imagination, learning, and fun right at your kitchen table and I would highly recommend this to anyone with kids ages 4 and up.