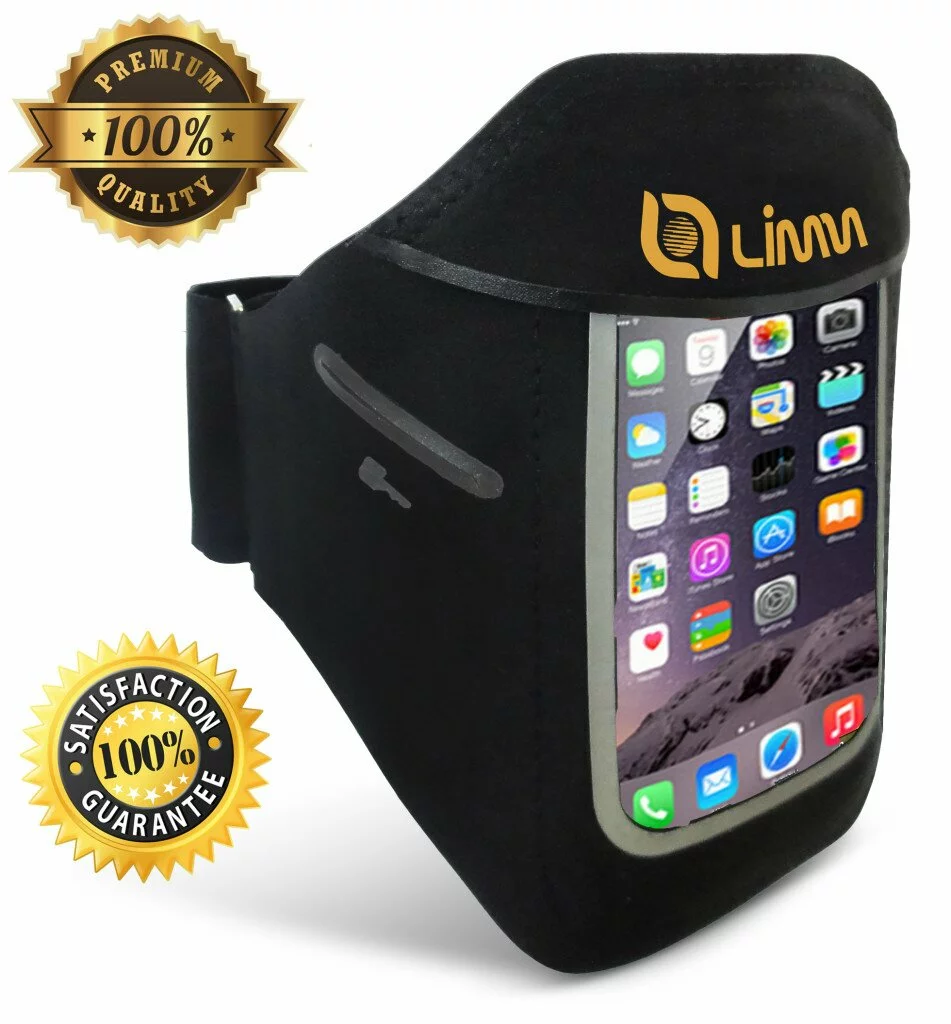 THE BEST SOLUTION TO COMFORTABLY ENJOY MUSIC WHILE YOU EXERCISE, SPECIFICALLY MADE FOR ACTIVE PEOPLE LIKE YOU!
Get a LIMM SPORTS ARMBAND for iPhone 6  and Galaxy S5 / S4!
The Limm Sports Armband is the perfect and most comfortable device carrier to wear while you exercise, allowing you to enjoy your music and focus on what matters.
Access all your device's essential buttons and features, while protecting it from harm. Most importantly it eliminates the hassle of headphone cables getting in the way and worries about the safety of your device.
Enjoy a comfortable fit that will let you forget you are even wearing an armband.
Here are 5 Reasons You're Going to LOVE Your Limm Armband for iPhone 6 and Samsung Galaxy S3 / S4 / S5:
– It protects more of your cell phone than other armbands on the market! (Protection against heavy sweating as well as light rain.)
– The Limm armband includes a key holder compartment which works great for storing your house key (and a few dollar bills, just to keep on hand

– It's SUPER lightweight! (The armband was designed for you to stop noticing that it's on your arm after a couple of minutes of exercising.)
– The Limm armband features a touch-compatible plastic cover that enables operation of the phone's screen! (Change a song, answer a quick text, all through the clear plastic screen of your armband!)
– Backed by a 100% SATISFACTION GUARANTEED! (Order yours now because you literally RISK NOTHING!)
PLEASE NOTICE:
COMPATIBILITY:
1- Armband is compatible with iPhone 6 (4.7'') (without a case, but might fit with a slim case).
2- Armband is compatible with Samsung Galaxy S5 and S4 and S3 (without a case).
3- Armband is compatible with HTC One, Nexus 5 and Amazon Fire Phone (without a case)
ARM SIZES:
-Arm Size: Average (yellow logo): Strap fits 10-3/4" to 16-1/8" arm circumferences
Limm Sports Armband Review
Limm Sports Armband Review
Summary

Upon receiving this product I opened the package. Inside of my amazon packaging was a box about the size of a CD case, maybe a little bigger. My first thought was "how in the world is my phone supposed to fit in there?", my next thought was "how do I open it without cutting the phone sleeve!". After about 5 mins of struggling to get it open, I finally got the product out and was able to further inspect it. For me the quality was not that of something I would typically buy. It is very thin, but my phone did fit inside of it. I then attempted to put it on. This is NOT a one person job. You have to get it on your arm, facing the right direction, and THEN velcro it shut before it slides back down or turns under your arm. I think that for someone with very small arms, and the ability to move fast enough to actually get it on and keep it on the right way it would be an okay product, but I personally would not use it in my exercise routine. I did however check the waterproof feature, it is supposed to protect your phone from excessive sweat, and this was pretty accurate. You phone should be fine as long as you do not get cause in a downpour.
Anyone that has read my reviews in the past knows that I don't like leaving negative reviews, but this product just irritated me from the beginning to the end. I think the best part about it was that my phone slid inside of it with ease. Below is an image of it with my phone inside, but I could not get it on my arm correctly, or to fit comfortably. Overall, I think this product is not a fantastic one, but that it is just okay. I would not recommend it to someone of my size or larger. If you are small framed and atheletic, it may be for you.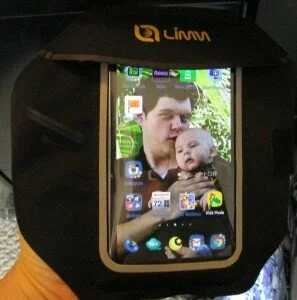 I received this product in exchange for an unbiased review. All opinions are 100% my own.