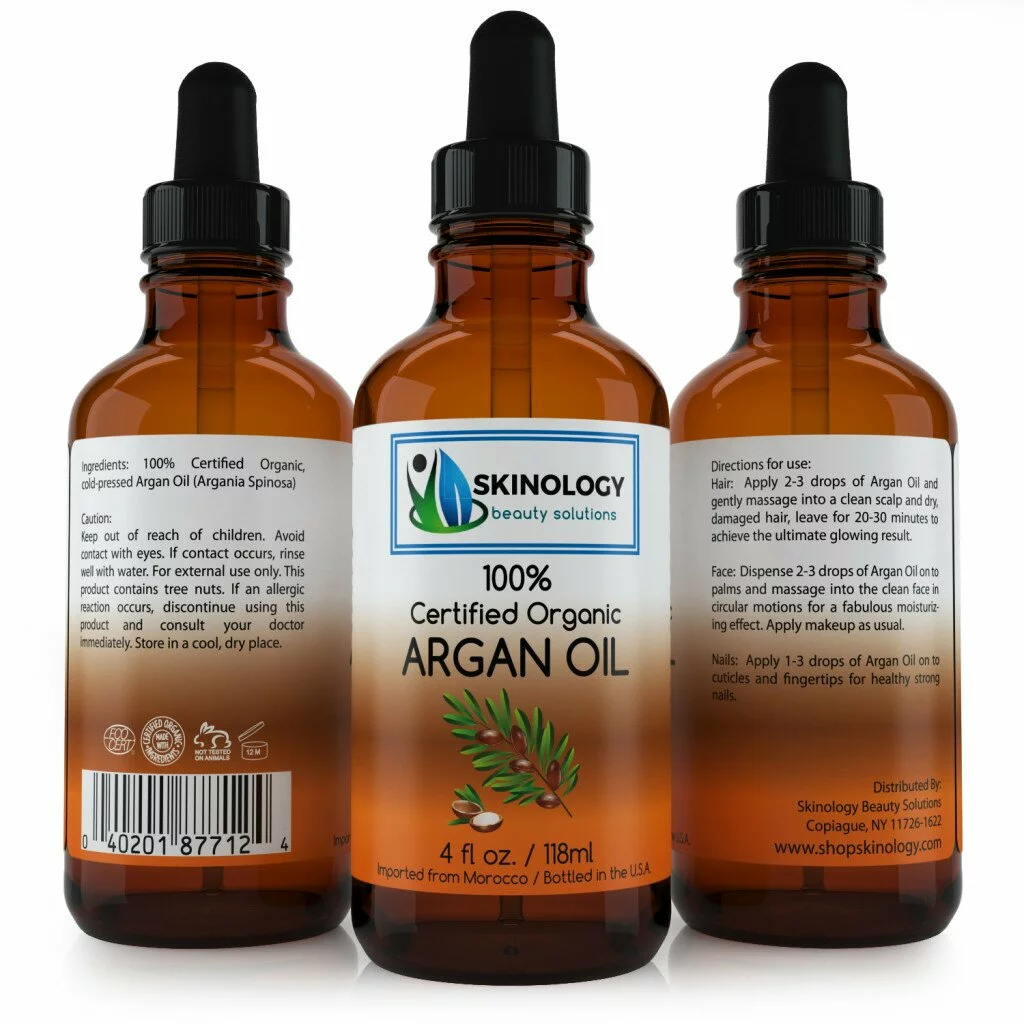 100% PURE AND ORGANIC. It is totally pure and unrefined! There are no fillers, parabens or artificial ingredients, no preservatives, chemicals, or artificial fragrances used. It is organically prepared in small batches, ensuring premium quality of the product. Imported from Morocco and bottled in USA in FDA Approved facility. This product is cruelty-free and was never tested on animals.
MULTIPURPOSE NATURAL MOISTURIZER. This unique formulation gives a revitalizing effect on all skin types. Very effective on Stretch Marks, Wrinkles, Dry Skin, Fine Lines, Nail Cuticles, etc. It strengthens brittle nails and also repairs hair damages and prevents split-ends
RICH ORGANIC COMPONENTS. It contains Vitamin E and A, Omega 6 Fatty Acids and Antioxidants. It naturally hydrates and softens dry and damaged skin better than any other moisturizer on the market. No artificial Ingredients – only pure natural goodness!
EASILY ABSORBING. Fast absorbing and long lasting on your skin. It leaves no oily film on your hair or face. Also, it can be used in combination with your favorite lotions and creams and be applied directly on your hair or skin.
100% SATISFACTION GUARANTEED: Customer satisfaction is our main priority. Please feel free to contact us anytime if you have any questions or concerns regarding our product and we will make sure that all your customer needs are fulfilled. If for some reason you are not completely satisfied with our product – contact us and receive a full refund. Click the Orange button to order NOW!!!
Pure Organic Argan Oil Review
Pure Organic Argan Oil Review
Summary
I recently dyed my hair, and usually after dying it, it gets kind of brittle feeling and the shine from the dye fades within a wash or two. I used this Argan Oil that Skinology Beauty Solutions sent me in exchange for an unbiased review after dying my hair this time. When I first opened the box to use it I noticed that it was not one of those small bottles that you might find in the store that are only 1 or 2 ounces, this is an entire 4 ounce bottle which is pretty big! It also included a nice dropper, that is made of glass and holds a decent amount of the oil.
Once applied, I almost instantly noticed a change, my hair had a nice new shine to it and it was softer after about 3 or 4 uses.
My only 2 complaints about this product are 1, that if you use even the tiniest bit too much, it will make your hair look greasy within 24 hours; and 2, the smell. It is neither a bad smell nor a good one, I just cannot place my finger on what the scent is and I, personally, do not care for the smell. Therefore I gave this product 4 stars. It does work if used correctly and it also has other uses, but I intend to use it as a hair product. Overall this is a good product and I would recommend it to someone that might have slight hair issues such as frizziness, fly aways, etc.