Brownie Fridge Cake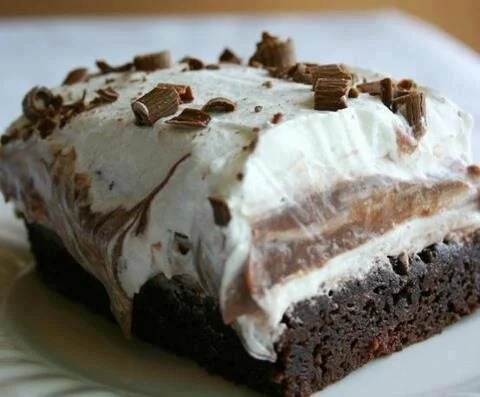 Ingredients-
2 brownie mixes
1 extra large egg
1 (8 oz.) package cream cheese, softened
1 cup powdered sugar
2 (8 oz.) containers whipped topping
1 (3 oz.) package instant chocolate pudding
1 (3 oz.) package instant vanilla pudding
3 1/2 cups milk
1 Hershey candy bar or chocolate syrup
Directions-
Mix brownie mixes according to directions.
Add egg.
Bake in 9×13 inch greased and floured cake pan.
Mix cream cheese, powdered sugar and 1 container whipped topping.
Put this mix on top of the cooled brownies.
Blend puddings and milk together and put on top of the cream cheese mixture.
Top with another layer of whipped topping.
Put chocolate shavings or chocolate syrup on top.
Refrigerate until ready to serve.