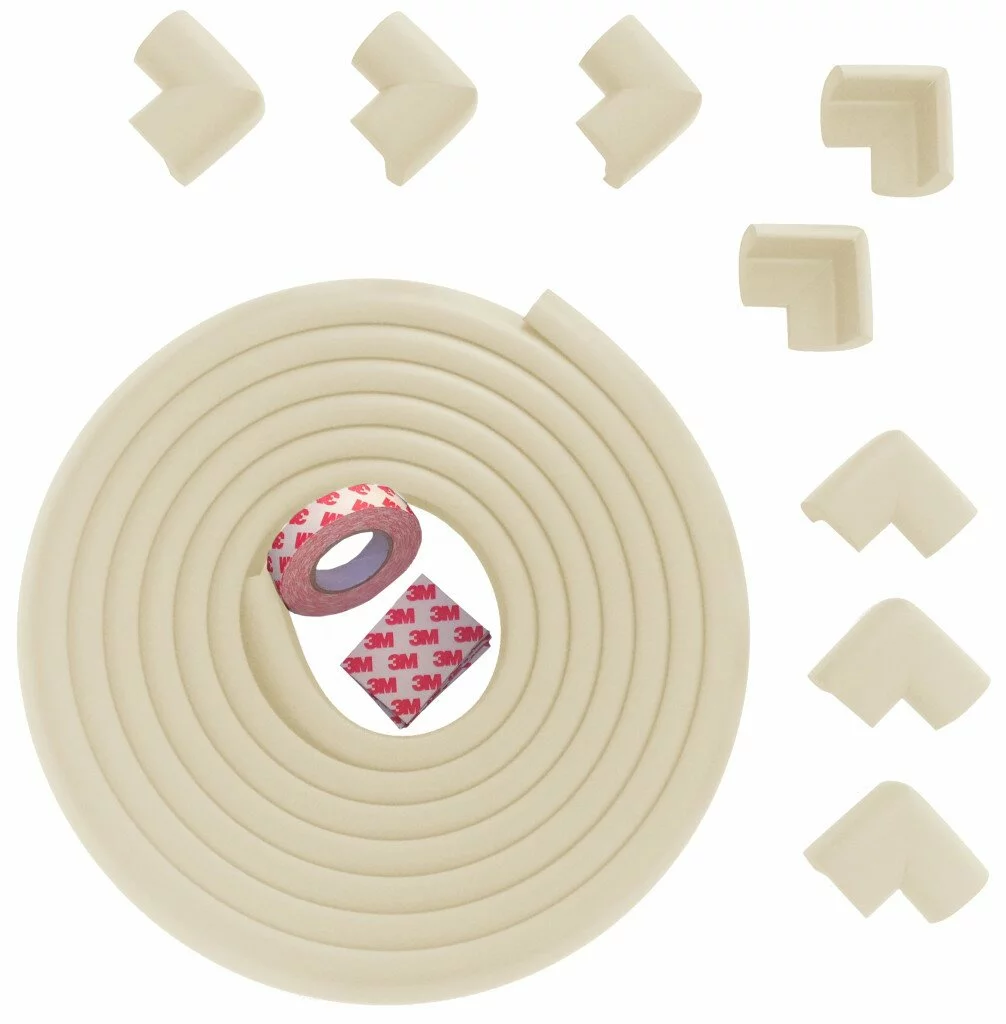 ★ EXTRA LONG WITH MORE TAPE – Covers 17 feet: 15 feet edge cushion + 8 corner cushions; 3 feet longer than other top brands! Includes authentic 3M adhesive double-sided tape: 45 feet of tape for the edge cushion and 32 tape pieces of tape for the 8 corner cushions; EXTRA 15 feet more then you need, so you won't run out during installation!
★ THICKER And MORE DENSE – Premium high-density thicker soft cushions absorb impact and protect your loved one from the hard sharp corners and dangerous edges; made from NON TOXIC ECO FRIENDLY CHILD SAFE rubber, ideal for baby proofing your home, daycares, nursing homes, preschools, schools, hospitals, offices, senior facilities and more.
★ FITS MULTIPLE USES – fits all standard size tables: round table up to 56″ diameter, square table up to 47″, square and rectangle table up to 36″ x 60″; Ideal on coffee tables, dinner tables, office desks, kitchen countertops, TV cabinets, chests, shelves, stairs, fireplaces, hearths, walls, fish tanks and more.
Available in 4 Stylish Colors:
★ Coffee
★ Beige
★ Black
★ Light Brown
Multi Purpose Edge & Corner Guard Review
Multi Purpose Edge & Corner Guard Review
Summary
First of all let me say this- ANYONE with small children should buy this product! I received this product from Bow-Tiger in exchange for an unbiased review, and I am now in love with it! At first, I wasn't very sure I would like it because it came in one roll of foam and then it has 8 corner pieces, well- I was wrong! I finally got the time to put it on my furniture this morning and it was so easy to apply. I used it on my desk, and on my TV stand table. I still have a TON left to work with as well, so when we buy a new coffee table I am going to put it on that as well. The foam is incredibly smooth and soft, and I really believe that it will prevent my little guy from getting hurt as he is learning to crawl and move around on his own more and more everyday. The last thing any mom wants is her child putting an eye out or knocking out a tooth before it is time to fall out! I worry all the time about the safety in our apartment and this made me feel 1000 times better about him playing and growing inside our home.
When applying it to my furniture, I took the roll and just held it up and measured it by eye, cut it off where I needed and then applied the double sided tape that came with the bumpers. The tape is a 3M product so I completely trust the durability of it to hold up for a long time since we are already big, big fans of 3M anyway.
The installation was better than I expected, I think that is the biggest thing for me. I don't like having to ask hubby for help, so considering this was something I could do alone AND while Bubby was playing was a big plus.
Here are a few images I took after installing it: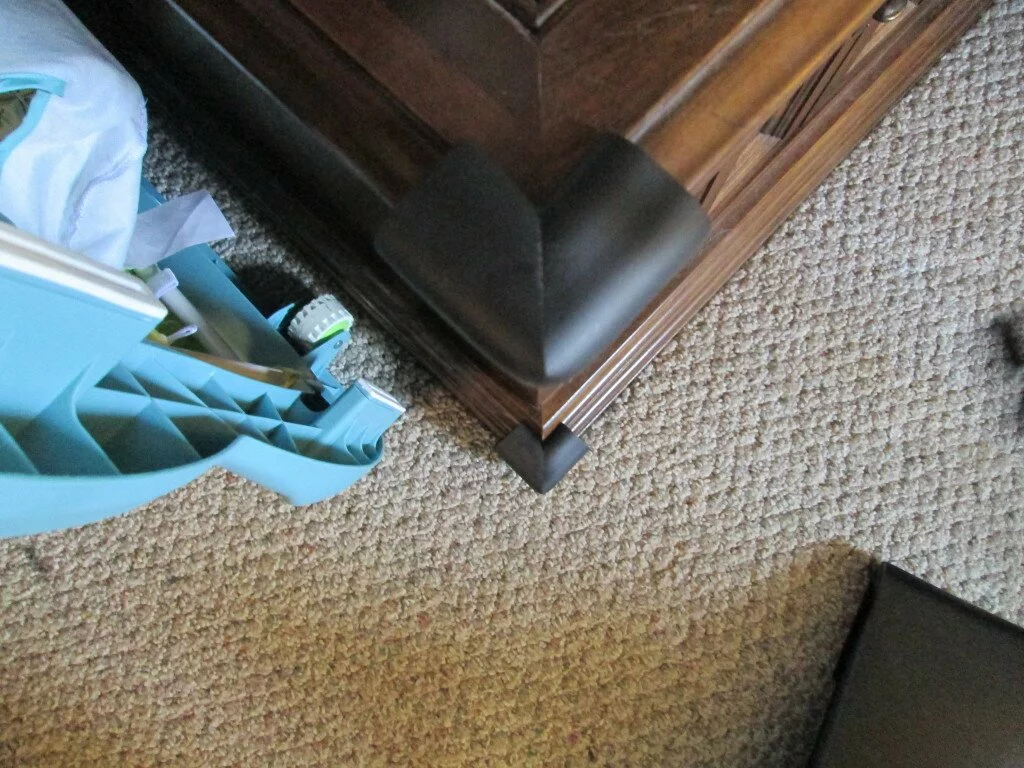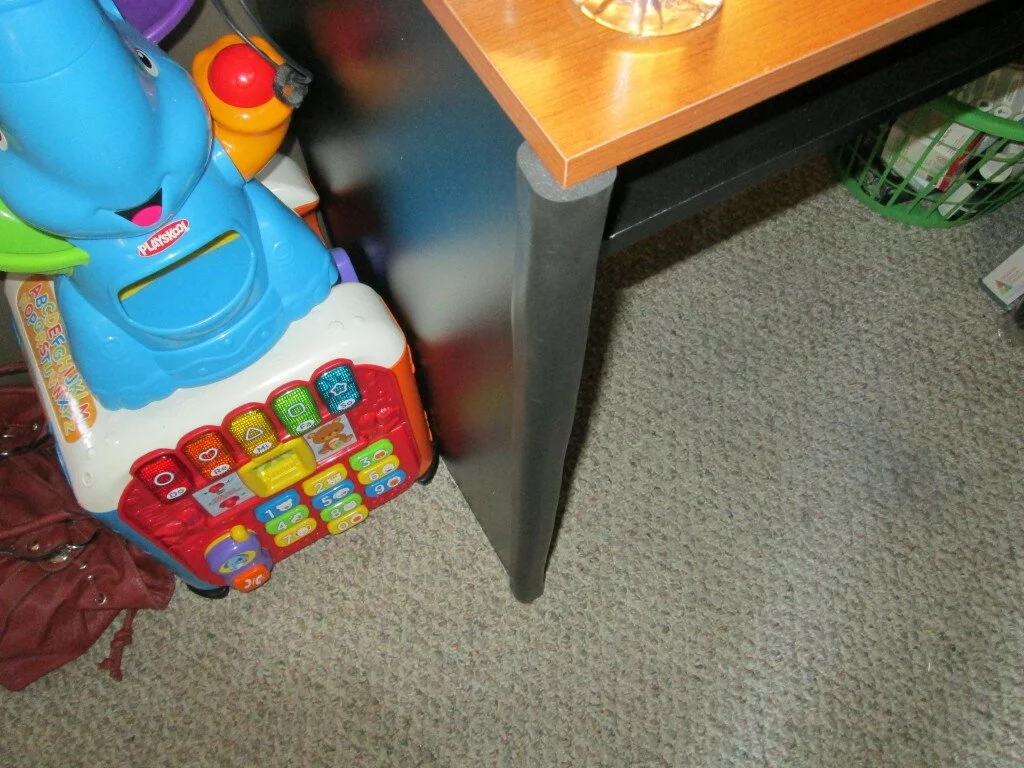 If you notice, it fit flush against the furniture, and looks great at the same time. I was happy that my desk was already black, so you really can't see it on there. With the TV stand, i just used the corner pieces because they are extremely sharp otherwise.
Overall, I feel like this is a really awesome product that moms everywhere should really consider adding to their safety supply list! I highly recommend it, and plan on buying at least one more package.