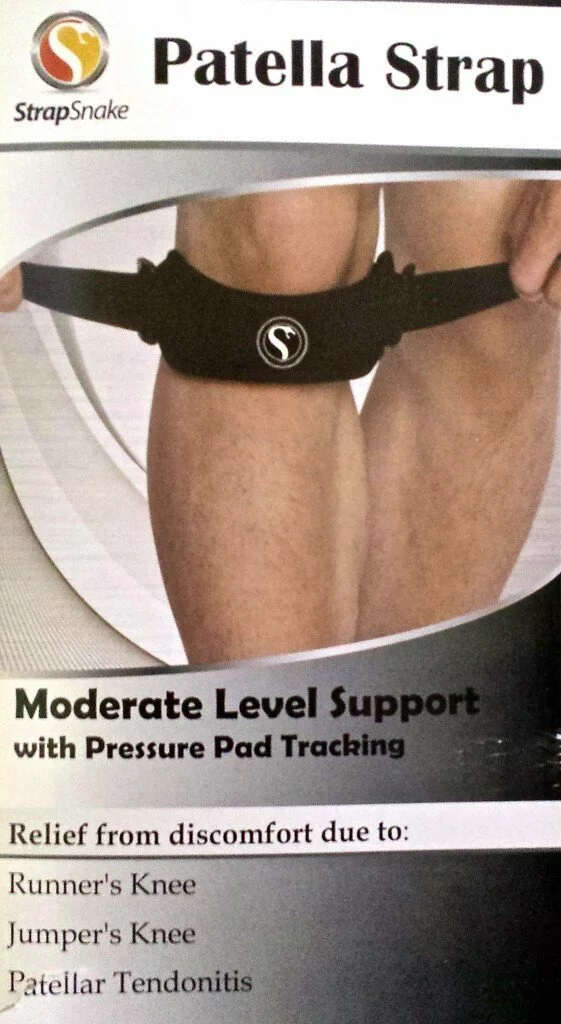 Patella Strap Tendon Band to Ease Patella Tendonitis, Chondromalacia Patella, Runners or Jumpers Knee. Also Includes Knee Pain Relief eBook
Two-Way ADJUSTABLE STRAP with easy slide side buckles provides superior option for secure and more comfortable fit for knees of all shapes over single pull strap styles.
Aids to alleviate discomfort from CHONDROMALACIA (irritated kneecap) and OSGOOD-SCHLATTERS DISEASE (inflammation of patellar ligament), a problem associated with adolescents active in youth sports with running and jumping movements.
ONE SIZE fits knee measurements up to 18 inches based on circumference just below knee cap at flex point and centered on patellar tendon.
FLEXIBLE, NON-SLIP TUBING maintains proper pressure on tendon to improve knee cap tracking and lessen painful rubbing to allow normal exercise workouts.
KNEE PAIN and PREVENTION eBook provides an overview of knee problems to educate consumers on types of knee injuries, including arthritis, bursitis, and tendon and meniscus injuries.
TIME TO STOP KNEE PAIN AND EXERCISE WITHOUT DISCOMFORT
Stop missing out on regular exercise due to a throbbing knee after a run or playing ball in the park. Get back to your routine and enjoy your workout with reduced knee inflammation. Increase your intensity and duration without worrying about more damage or knee injuries.
A better design for better performance
– Two-way adjustable strap allows for a more comfortable fitting
– Ultra-strong Velcro tabs stay in place to prevent loosening
– Soft and stretchable neoprene material avoids rubbing and chafing
– Double buckles hold strap in position to avoid disruptive slipping
– Flexible silicon tube provides pressure tracking over tendon for a stable kneecap
– Reduces irritation and inflammation due to excessive patella movement
Make your exercise more productive, reduce joint stress and lessen your recovery time
– Protect your knee during sports activities and reduce patella stress and injury
– Reduce joint fatigue from running, jumping, bending and other knee movements
– Helps to absorb the shock and stress of repetitive actions to prevent tendonitis
– Avoid excessive recovery time that results from improper tracking and extra vibrations
Patella Tendon Strap Review
Patella Tendon Strap Review
Summary

I have been using this for the past 5 or 6 days and I love it! I have bad knees from gaining so much weight from my last pregnancy and getting up and down and even just walking hurts some days. Since receiving this from Strapsnake in exchange for an unbiased review, I have had a lot less pain when trying to get around. To put it on, you undo one or both sides and either wrap it around or slide it onto your knee just under the joint and then tighten the straps down. The piece that helps with the pain feels like a tube inside laying just under the material.
My only complaint with this product is that the piece that presses into the knee can be a bit uncomfortable if you do not put it on correctly, and I wish that the strap was just a little longer. Other than that this has been a great product and I am loving the new freedoms of being able to get down in the floor more and play with my little boy. Overall I think this is a good item to have if you do indeed have knee problems and wish to ease the pain.