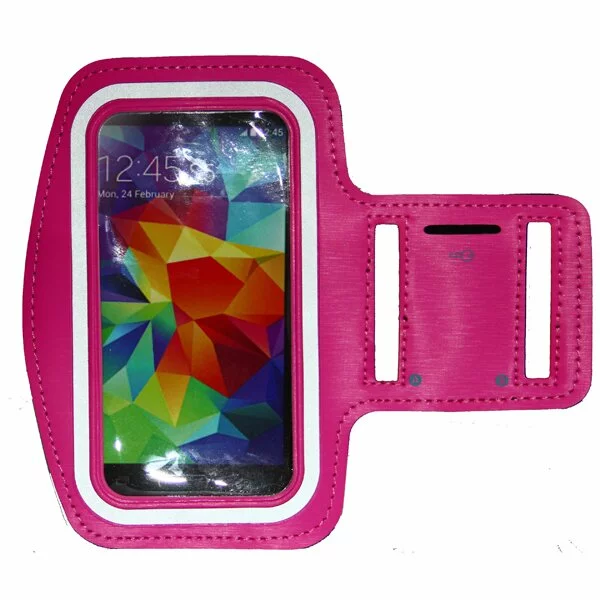 Samsung Galaxy S5 Sports Armband by i2 Gear
If you've ever been out running and tried to listen to music or send a quick text while taking a breather you know its almost impossible to use your phone without covering it with sweat or worse dropping it along the way! Now with this armband you can safely interact with your touch screen and listen to your favorite music

Compatibility and Use
Use your armband with the new Galaxy SII, SIII, S4 and S5 from all carriers. You can wear it over your biceps or on your forearm. The night reflector provides additional visibility for outdoor early morning and evening runs. There is even a slot for your house key which we all know can be a lifesaver. This armband is also great for high intensity workouts, spin class, yoga or even casual walking or outdoor activities.
Precision and Protection
The touchscreen is fully accessible through the plastic cover. The armband pouch and cover keeps your phone safe from impact and moisture while working out.
Size
This armband is lightweight and accommodates arm sizes from approx. 9 to 17 inches. Also we recommend that you use this armband without a case.
Material and Care
Made of nylon, velcro and neoprene materials. This armband can be safely hand washed and air dried after use. We do NOT recommend machine washing your armband as this could cause damage.
Running Armband for Samsung Galaxy Phones Review
Running Armband for Samsung Galaxy Phones Review
Summary
When this product arrived, I was not impressed. There was zero packaging. It just comes in a thin ziplock baggie. After taking a few mins to look over the product and try it on, I was very pleased with the overall quality. It is not thin and flimsy, and the armband is easy to use on top of being able to fit my arm unlike the last one I reviewed. My phone fit inside of it perfectly (Samsung Galaxy S5) as well as the iPhone that I have. I had no trouble getting it to stay in place or getting it fastened shut. After putting it on I decided to test it out by doing a little exercise, and going for a speed-walk around the block. It stayed on! I feel like this could be the answer to walking in silence. I love that it is pink also! Very girly.
Overall, I am happy with this armband and will be using it for a long time hopefully. I think this is a fantastic product and I would highly recommend this to runners or to anyone that likes walking or working out to music!