I was born and raised in one of the greatest states this is of the USA, North Carolina! Home to all the BBQ you can eat!! This is one of those things that can bring people together, but when you aren't throw a big to-do, and still have a craving for some of that delicious barbecued pork, this is a great little recipe to satisfy the whole family
---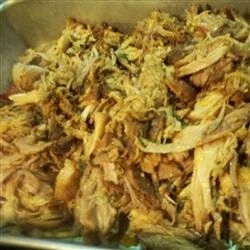 Ingredients
1 (5 pound) bone-in pork shoulder roast
1 tbsp salt
1 tsp ground black pepper
1 1/2 cups apple cider vinegar
2 tbsp brown sugar
1 1/2 tbsp hot pepper sauce
2 tsp cayenne pepper
2 tsp crushed red pepper flakes
Directions
Place the pork shoulder into a slow cooker and season with salt and pepper.
Pour the vinegar around the pork.
Cover, and cook on Low for 12 hours. Pork should easily pull apart into strands.
Remove the pork from the slow cooker and discard any bones.
Strain out the liquid, and save 2 cups. Discard any extra.
Shred the pork using tongs or two forks, and return to the slow cooker.
Stir the brown sugar, hot pepper sauce, cayenne pepper, and red pepper flakes into the reserved sauce.
Mix into the pork in the slow cooker.
Cover and keep on Low setting until serving.
Serve this with buns, thick garlic bread, or some of those little  Sweet Hawaiian rolls. Serve it alone, or with mac-n-cheese is a great side, corn on the cob, or some yummy green beans. Any combo of these only makes it better.
---
Love this idea? Did you put a twist on it? Want to see more like it? Well TELL us!! Scroll on down and leave a comment telling us what you loved, hated, or changed!!