---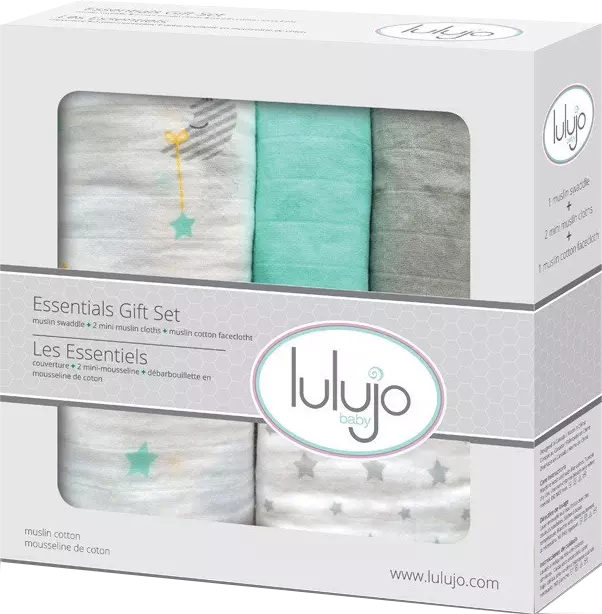 Newborns love being swaddled, at least I know mine did when I first brought him home. Now, he just likes being snuggled, lol. Even though Bubby is way past swaddling, having swaddle blankets is still a good idea because he loves the way they feel. He likes wrapping up in them and laying on the floor to watch his Disney shows in the mornings.  I had the opportunity to review this awesome Essentials Gift Set by lulujo.
Let me start by saying this, these blankets are simply amazing to say the least! They are super soft, and inside this gift set there are 2 smaller blankets- mini muslin blankets, more ideal for a newborn, and 1 larger one- muslin swaddle blanket. There is also a large, thick and very soft face cloth that can be used in the tub, or as a burp cloth.
Each of these piece come made with tons of care, and are made to last. They are made with muslin cotton, and would make a great addition to ANY nursery. I love them because my son loves them, and because of the way they feel mostly. I have tons, and tons of swaddle blankets, but NONE that feel like this. The large swaddle blanket is almost big enough to use as a crib sheet! None of my others are this big either, and my son always found a way to wriggle his little hands out and undo his wrap.
Overall, I am head over heels for this lulujo set, and plan on buying one for a friend of mine that recently gave birth to a beautiful baby boy. I think that any mom that has a chance to check these out will feel just like I do about them.
---
This slideshow requires JavaScript.
---
---
Be sure to check out lulujo on the Web
Like lulujo on Facebook
Follow lulujo on Twitter
Follow lulujo on Instagram
Follow lulujo on Pinterest
---
* I received these products in exchange for a review. I was not compensated for my review and all my opinions are my own, based on my personal experience with the product. I am disclosing this in accordance with the Federal Trade Commission's 16 CFR, Part 255: Guides Concerning the Use of Endorsements and Testimonials in Advertising.
lulujo baby Essentials Gift Set Review
lulujo baby Essentials Gift Set